Monkey, Ninja, Pirate, Robot Deluxe
Origins Award Nominee
Bathed in the atomic radiation of a reactor core, strange champions fight to the death, in order to claim the sweet, sweet uranium... and victory!
(Fully compatible with the Freebie version, Monkey, Ninja, Pirate, Robot.)
MNPR Deluxe is a fast-paced, beer 'n pretzels game suitable for all ages. Each player will take on the role of a champion of a powerful (yet somehow downtrodden) secret group, each with access to unique abilities.
We'll provide the rules and the MNPR Cards, and you provide the six-sided dice, tokens, and friends to play with.
What's Needed to Play MNPR Deluxe?
2 to 8 players.
A copy of MNPR Deluxe or MNPR,
so that each player has an MNPR Card.
Three six-sided dice (3d6).
Lots of Tokens (pennies, buttons, beads will all work).
What's the Difference between the Freebie MNPR and
MNPR Deluxe?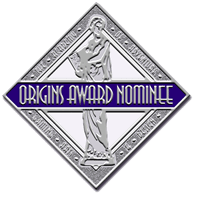 Five additional MNPR Cards depicting new champions, each with their own special powers.
Card back images included for snazzy double-sided printing.
A blank MNPR Card, so that you may create your own
idiosyncratic champion.


---
Buy it Now
:: Purchase MNPR Deluxe from RPGNow and prepare for mayhem!
:: Purchase MNPR Deluxe from e23
Related Information
:: Designer's Notes (subscribers only)
:: Downloads and Game Preview from the Freebies Page
:: Take the Monkey, Ninja, Pirate, Robot Quiz
:: MNPR-T Webcomic - Stick Figure Mojo!
:: MNPR mail-list - mnpr-subscribe@yahoogroups.com